Original Ka-Bar 1217 USMC The Legend - surely the most famous knife in the world
It was created for the needs of the US Army during World War II. Until today, in a slightly changed version, it performs well both in civil and military applications. It has become a cult knife thanks to the great versatility of applications and perfectly selected materials.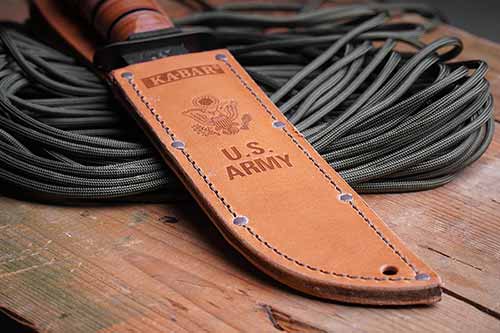 Ka-Bar USMC The Legend military knife - the highest quality
The knife is made of one piece of high quality Cro-Van 1095 steel. The smooth blade with the characteristic Clip Point shape, shallow groove and embossed letters "USMC" is covered with a black, anti-reflective coating.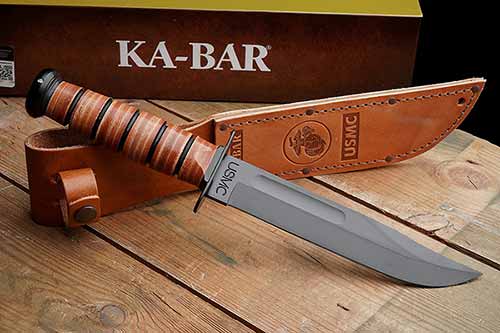 Ka-Bar 1217 USMC Fighting Utility - Marine knife with sheath and natural leather handle
The handle is made of pressure-pressed pieces of buffalo leather. A steel handguard prevents the hand from slipping onto the blade. The set includes a brown buffalo leather scabbard.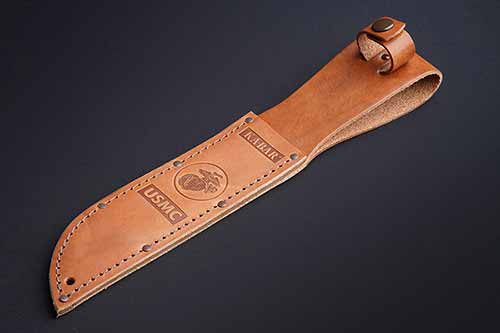 splitter
Specifications
Steel
1095 Cro-Van
Overall length
302 mm
Blade length
178 mm
Blade thickness
4.2 mm
Blade
Clip Point
Steel hardness
56-58 HRC
Grind
Flat
Sharpening angle
20 °
Handle material
Buffalo leather
Weight
304 g
NSN
1095-01-581-9100 KNIFE-COMBAT
Features:
A cult knife based on a World War II design
Made from one piece of Cro-Van 1095 steel
Blade with Clip Point profile
Blade with black anti-reflective coating
The handle is made of pressed pieces of buffalo leather
Equipped with a cross guard to increase user safety
Comes with a leather sheath
Lifetime warranty
NSN: 1095-01-581-9100 KNIFE-COMBAT